Grand Cayman Marriott Beach Resort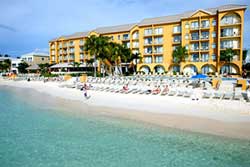 Grand Cayman Marriott Beach Resort
Centrally located on the world-famous Seven Mile Beach, Marriott's Grand Cayman Resort invites guests to experience the ultimate Caribbean escape. All 295 spacious rooms feature classic Cayman furnishings in warm tropical hues and rich dark woods, modern amenites and private balconies.
Grand Cayman Marriott Beach Resort Dining:
Balboa's Coffee Lounge, Balboa's Lounge, Red
...
Family Vacations
Sun and Sand

Serving connoisseurs of travel since 1977, Journese℠ embodies the promise of an exquisite journey, with fine travel made seamless and effortless through experienced Destination Specialists. Our travel experts personally visit and handpick the world's finest properties, establishing supplier relationships to ensure VIP treatment at premier resorts, Private Retreats℠, private resort residences, luxury trains and cruises. We offer journeys to Australia, Canada,
...