102 Days, Caribbean Idylls & Mediterranean Masterpieces
on Crystal Serenity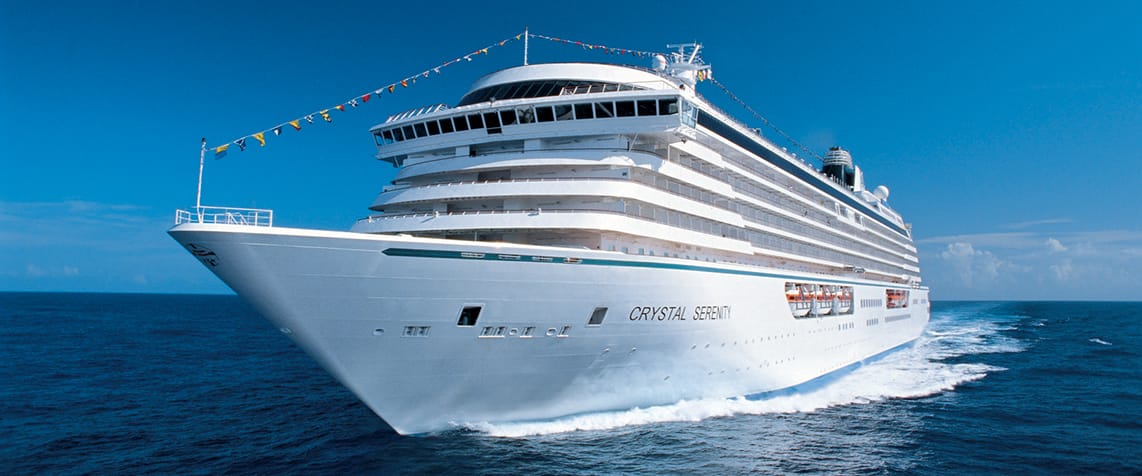 102 Days, Caribbean Idylls & Mediterranean Masterpieces
A grand odyssey exploring lush Caribbean isles, exotic Spanish archipelagos and iconic Mediterranean lands, from Morocco to the Holy Land and Black Sea. Visit the Greek Isles, the Costa del Sol, the Amalfi Coast and the Côte d'Azur in pure luxury.

Since the beginning, Crystal has been the standard-bearer for excellence in luxury travel, remaining the undisputed choice among the savviest world travelers. Today, we are redefining it altogether, expanding the possibilities for our guests with choices, experiences and luxuries unmatched in the industry. By Ocean, River, Yacht, Expedition and Air, each Crystal Experience is designed to showcase the world and its wonders in the most remarkable ways. Join us as new adventures unfold...


| Day | Destination | Arrive | Depart |
| --- | --- | --- | --- |
| Mon | Miami, US | | 07:00 PM |
| Tue | Cruising The Gulf Of Mexico | | |
| Wed | Progreso (for Chichen Itza), MX | 08:00 AM | 05:00 PM |
| Thu | Cozumel, MX | 09:00 AM | 06:00 PM |
| Fri | At Sea | | |
| Sat | Ocho Rios, JM | 08:00 AM | 06:00 PM |
| Sun | Port Royal, JM | 08:00 AM | 06:00 PM |
| Mon | Cruising The Caribbean Sea | | |
| Tue | Puerto Limón, CR | 07:00 AM | 06:00 PM |
| Wed | Colón, PA | 07:00 AM | 06:00 PM |
| Thu | San Blas Island, PA | 07:30 AM | 05:00 PM |
| Fri | Cartagena, CO | 07:00 AM | 02:00 PM |
| Sat | Aruba/Oranjestad, AW | 01:00 PM | |
| Sun | Aruba/Oranjestad, AW | | 05:00 PM |
| Mon | Curacao/Willemstad, CW | 08:00 AM | 10:00 PM |
| Tue | Bonaire/Kralendijk, BQ | 07:00 AM | 06:00 PM |
| Wed | Cruising The Caribbean Sea | | |
| Thu | Scarborough, TT | 08:00 AM | 06:00 PM |
| Fri | Trinidad/Port-of-Spain, TT | 07:00 AM | 06:00 PM |
| Sat | Grenada/St George's, GD | 08:00 AM | 05:00 PM |
| Sun | Pointe-à-Pitre, GP | 08:00 AM | 10:00 PM |
| Mon | Roseau, DM | 08:00 AM | 06:00 PM |
| Tue | St. Barts/Gustavia, BL | 07:30 AM | 06:00 PM |
| Wed | San Juan, PR | 08:00 AM | 10:00 PM |
| Thu | Frederiksted, Saint Croix, VI | 08:00 AM | 06:00 PM |
| Fri | Saint John/Cruz Bay, VI | 08:00 AM | 10:00 PM |
| Sat | Tortola/Road Town, VG | 07:00 AM | 06:00 PM |
| Sun | Antigua/St. John's, AG | 08:00 AM | 06:00 PM |
| Mon | Guadeloupe/Iles des Saintes, GP | 08:00 AM | 10:00 PM |
| Tue | Martinique/Fort de France, MQ | 08:00 AM | 10:00 PM |
| Wed | St. Lucia/Castries, LC | 08:00 AM | 06:00 PM |
| Thu | Barbados/Bridgetown, BB | 08:00 AM | |
| Fri | Barbados/Bridgetown, BB | | 05:00 PM |
| Sat | Cruising The Atlantic Ocean | | |
| Sun | Cruising The Atlantic Ocean | | |
| Mon | Cruising The Atlantic Ocean | | |
| Tue | Cruising The Atlantic Ocean | | |
| Wed | Cruising The Atlantic Ocean | | |
| Thu | Praia, CV | 07:00 AM | 06:00 PM |
| Fri | Porto Novo, CV | 07:30 AM | 06:00 PM |
| Sat | Cruising The Atlantic Ocean | | |
| Sun | Cruising The Atlantic Ocean | | |
| Mon | Las Palmas de Gran Canaria, ES | 08:00 AM | 10:00 PM |
| Tue | Puerto Del Rosario, ES | 08:00 AM | 06:00 PM |
| Wed | San Sebastian de La Gomera, ES | 07:30 AM | 06:00 PM |
| Thu | Santa Cruz de La Palma, ES | 08:00 AM | 06:00 PM |
| Fri | Santa Cruz de Tenerife, ES | 06:00 AM | |
| Sat | Santa Cruz de Tenerife, ES | | 06:00 PM |
| Sun | Lanzerote/Arrecife, ES | 08:00 AM | 06:00 PM |
| Mon | Funchal, PT | 01:00 PM | |
| Tue | Funchal, PT | | 06:00 PM |
| Wed | Cruising The Atlantic Ocean | | |
| Thu | Casablanca, MA | 07:00 AM | 09:00 PM |
| Fri | Tangier, MA | 08:00 AM | 12:30 PM |
| Fri | Málaga, ES | 07:00 PM | |
| Sat | Málaga, ES | | 07:00 PM |
| Sun | Alicante, ES | 12:00 PM | 06:00 PM |
| Mon | Valencia, ES | 08:00 AM | 10:00 PM |
| Tue | Palma de Mallorca, ES | 08:00 AM | 06:00 PM |
| Wed | Barcelona, ES | 07:00 AM | 10:00 PM |
| Thu | Ciutadella de Menorca, ES | 08:00 AM | 04:00 PM |
| Fri | Sardinia/Cagliari, IT | 08:00 AM | 04:00 PM |
| Sat | Valletta, MT | 12:00 PM | 10:00 PM |
| Sun | Siracusa, IT | 08:00 AM | 06:00 PM |
| Mon | Palermo, IT | 08:00 AM | 06:00 PM |
| Tue | Amalfi, IT | 07:00 AM | 06:00 PM |
| Wed | Cruising The Mediterranean Sea | | |
| Thu | Saint-Tropez, FR | 07:30 AM | 10:00 PM |
| Fri | Marseille, FR | 08:00 AM | 06:00 PM |
| Sat | Barcelona, ES | 06:00 AM | 06:00 PM |
| Sun | Cannes, FR | 02:00 PM | |
| Mon | Cannes, FR | | 06:00 PM |
| Tue | Genoa (Genova), IT | 08:00 AM | 06:00 PM |
| Wed | Ajaccio, FR | 08:00 AM | 04:00 PM |
| Thu | Gaeta, IT | 08:00 AM | 02:00 PM |
| Thu | Naples (Napoli), IT | 05:30 PM | |
| Fri | Naples (Napoli), IT | | 06:00 PM |
| Sat | Cruising The Mediterranean Sea | | |
| Sun | Heraklion, Crete, GR | 09:00 AM | 06:00 PM |
| Mon | Santorini (Thíra), GR | 07:00 AM | 06:00 PM |
| Tue | Athens/Piraeus, GR | 03:00 AM | 06:00 PM |
| Wed | Pátmos, GR | 07:30 AM | 10:00 PM |
| Thu | Kusadasi, TR | 08:00 AM | 10:00 PM |
| Fri | Mykonos, GR | 08:00 AM | 07:00 PM |
| Sat | Cruising The Mediterranean Sea | | |
| Sun | Haifa, IL | 06:00 AM | 10:00 PM |
| Mon | Ashdod, IL | 07:00 AM | |
| Tue | Ashdod, IL | | 07:00 PM |
| Wed | Limassol, CY | 08:00 AM | 04:00 PM |
| Thu | Rhodes, GR | 09:00 AM | 06:00 PM |
| Fri | Cruising The Dardanelles | | |
| Sat | Istanbul, TR | 06:00 AM | |
| Sun | Istanbul, TR | | 06:00 PM |
| Mon | Nessebar, BG | 07:30 AM | 04:00 PM |
| Tue | Odessa, UA | 07:30 AM | 11:00 PM |
| Wed | Constanta (for Bucharest), RO | 09:00 AM | 09:00 PM |
| Thu | Cruising The Dardanelles | | |
| Fri | Athens/Piraeus, GR | 08:00 AM | 06:00 PM |
| Sat | Katakolon (for Olympia), GR | 08:00 AM | 03:00 PM |
| Sun | Naxos (Taormina), Sicily, IT | 07:30 AM | 06:00 PM |
| Mon | Sorrento, IT | 07:00 AM | 06:00 PM |
| Tue | Rome/Civitavecchia, IT | 07:00 AM | 09:00 PM |
| Wed | Florence/Livorno, IT | 07:00 AM | 07:00 PM |
| Thu | Monte Carlo, MC | 08:00 AM | |
| Fri | Monte Carlo, MC | | |